How we helped frame the conversation around art in the workplace
THE PROBLEM:
One of the biggest problems that companies in Central Indiana face is being able to attract and retain quality employees. Businesses spend tens of thousands of dollars to find and onboard a new employee only to lose them a few months later because the employee isn't satisfied with their new job or workplace.
High Frequency Arts was founded on a unique concept: If you can create the right environment for your company's employees, they'll actually enjoy working for you. You'll get a more engaged and productive workforce that's focused on helping your company succeed.
Having spent the last 20+ years as a Human Resources executive, HFA Founder Jill Lehman had seen this work in her own company. She had done the research. She could show the metrics and how they effected the bottom line of the company. She even knew a thing or two about art.
What she didn't know was how to turn all of this knowledge into a compelling argument for her business clients. The last thing she wanted to be seen as was a commodity, like all of the Interior Decorators and Art Consultants out there who might be great at art and design, but didn't have the first clue about how to solve HR issues. She wasn't just decorating offices. She was solving ACTUAL business problems!
THE SOLUTION:
Jill's value proposition was sound, but she needed to make sure that her sales conversations were framed in such a way that she was being seen as an HR Expert and not just another art consultant.
In order to frame up Jill's sales conversations, we needed to create content that spoke to her authority in the HR space. We needed to show High Frequency Arts not as some kind of business-focused art gallery, but as a full-fledged HR Consultant that used Art to help solve the employee engagement problem.
And more importantly, we needed to show that Jill's solution actually works.
We set out to accomplish this task by creating a Video Business Card where we would show prospects EXACTLY what High Frequency Arts can do for them and their workforce.
We started off by interviewing several high-profile business leaders that Jill had worked with in the past to help solve their HR-related issues and got their take on what High Frequency Arts is bringing to the table for business. They told us how big of an issue employee engagement is for business and how creating an engaging environment with art is kind of a no-brainer when you think about it. Especially when you factor in the expense of turnover and onboarding new employees.
To help sell the argument, we showed High Frequency Arts in action. Art being installed. Workplaces going from boring blank walls, to interesting and engaging spaces. Work being done.
We followed this video up with a case study on the impact that High Frequency Arts has made on one of their early clients, First Person Advisors.
Every piece of content produced helped to build authority and show High Frequency Arts as a thought-leader and solutions provider in the HR space that just happens to use art to solve the employee engagement problem.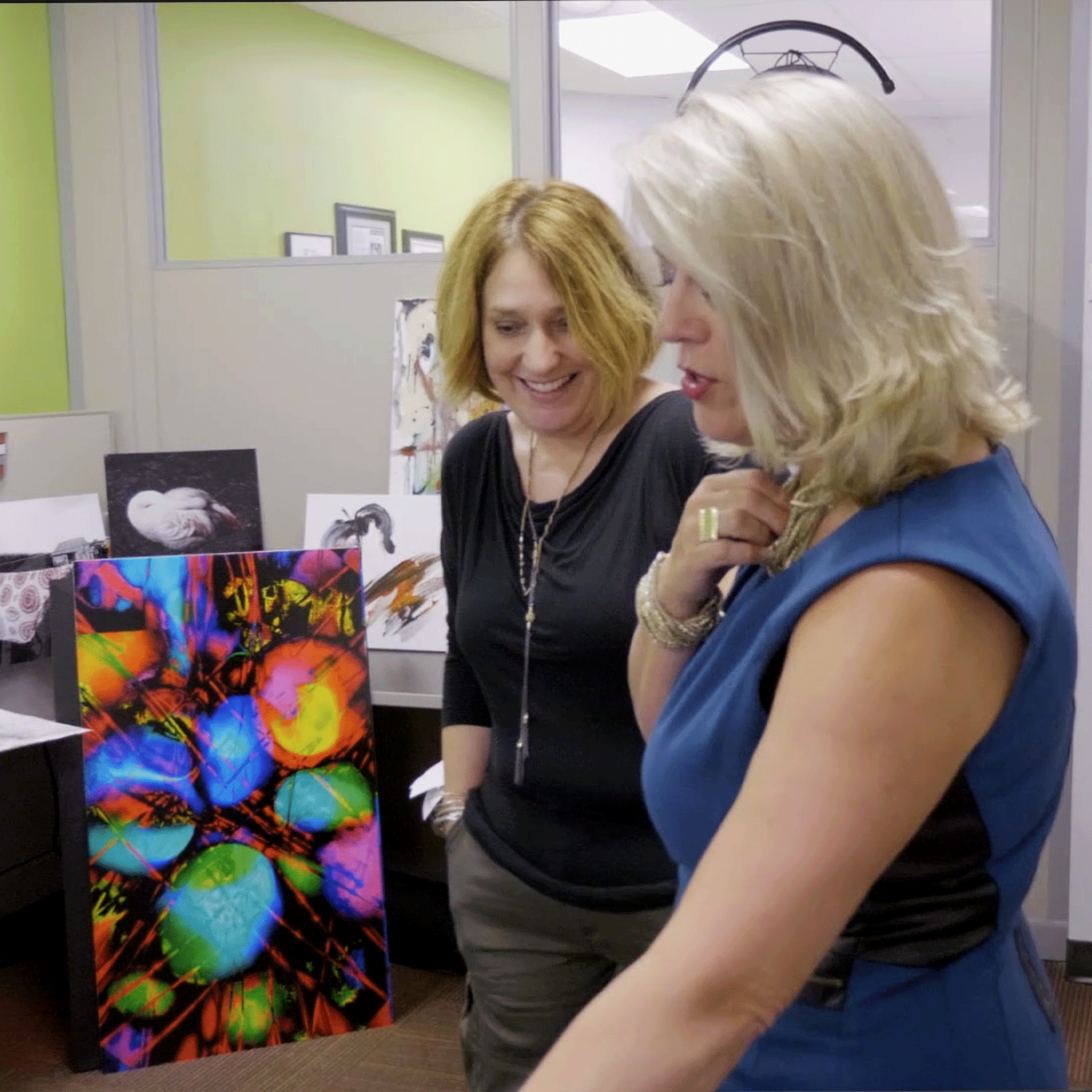 THE RESULT:
Now, when Jill meets a new prospect, she's able to show exactly how she's solving business problems and effecting the bottom line for her clients. She's not having to settle for meetings with the office manager who's responsible for decorating the walls. She's having meetings with the CEO.
Armed with her Video Business Card and her Case Study, Jill never has to worry that her prospects will see her as a commodity or someone who doesn't have the authority to solve their problems.
What is it YOUR prospects need to see in order to understand the value in what you do? Maybe we can help.